Cryptocurrency: Know Everything – The Journey from Bitcoin till 2020
Did you know that Cryptocurrency Mining is More Expensive Than Mining Gold or Platinum?
If you are enticed by the idea of cryptocurrency mining, you might wanna think again. Scientists at the Oak Ridge Institute in Cincinnati have discovered that the energy required to mine $1 worth of bitcoin is more than the amount needed to mine gold and platinum.
As per the research, 19 million joules (MJ)of energy is required to mine Bitcoin worth a dollar, while the amount of energy needed to mine gold or platinum worth $1 is comparatively lesser at 5MJ and 7MJ respectively.
Not only Bitcoin, mining other crypto denominations such as Monero, Litecoin, and Ethereum also consumes more energy than a precious metal.
---
Hackers Use Elon Musk's Name to Steal Bitcoin From Twitter Users
Scammers have again abused Tesla CEO Elon Musk's popularity to fleece Twitter users after hacking several popular accounts.
British fashion retailer Matalan, film distributor Pathe UK and US publisher Pantheon Books were among those whose accounts were taken over by scam artists, the BBC reported on Monday.
The hackers used Musk's name and likeness to ask for bitcoin through a tweet that asked users to give away a small amount of bitcoin to supposedly receive more.
To make the offer seem legitimate, several hacked verified accounts, including the ones mentioned above, appeared in the tweet's thread to claim that they have received bitcoin from Musk.
Goes without saying, the tweet was not from Musk and the victims did not receive any bitcoin after sending money to the scammers.
---
Cryptocurrency's History Review (After 9 Years of Bitcoin)
Bitcoin, the popular cryptocurrency which seeks to challenge the world's financial structure, has turned 9 years old this week, after starting its journey back in January 2009.
See Also: Bitcoin and Its Possible Impact on Insurance
Let's take a look at some interesting facts associated with Bitcoin's history that are worth knowing for some bragging rights:
The identity of Satoshi Nakamoto– the individual who designed Bitcoin and created its original reference implementation as well as the first blockchain database– remains unknown. Strange!
The first Bitcoin block– The Genesis block– was mined in January 2009 by its creator for a reward of 50 Bitcoins.
The first Bitcoin transaction was carried out between its creator and a programmer named Hal Finney, who received 10 Bitcoins for being the first adopter.
A major flaw in Bitcoin's protocol was discovered in August 2010, which was later exploited to generate over 184 billion Bitcoins in a single transaction.
_ Reference: Beebom.com
---
[Update: December 27, 2017]
BeeChat, the First Cryptocurrency Messenger, Captures Millions of Users
With the hype in Cryptocurrencies, the launch of BeeChat marks the advent of the first blockchain based cryptocurrency messenger app platform in the digital world.
BeeChat has captured millions of users around the world and currently supports hundreds of millions of messages per day on its network.
BeeChat has released many updates soon after its release. Till now it supports over 10 digital currencies. BeeChat is currently available in 8 languages and is currently on both iOS and Android platforms.
What is BeeChat about?
BeeChat provides messaging and communications services, cryptocurrency discussions and groups, cryptocurrency wallet, and industry news and media aggregation. BeeChat also added App functionality support in its latest update.
As one member of the BeeChat founding team explains:
"Facilitating information exchange in a social environment to educate the general public on the benefits of blockchain and cryptocurrencies is key to fostering the growth of the community—this is something that will revolutionize the way we interact."
Learn more about BeeChat and the Download Links for Android and iOS Devices.
---
[Update: December 6, 2017]
World's First Blockchain-powered Smartphone to Arrive in 2018
A company named as Sirin is gearing up to launch the world's first blockchain-powered smartphone in its 'Finney' line-up of devices that will facilitate transactions via Ethereum, the second most popular cryptocurrency after Bitcoin.
The Finney smartphone features integration with Ethereum via 'Status'- a decentralized browsing and chatting platform which also acts as an Ethereum wallet- that will let users seamlessly transfer tokens through its Android and iOS app.
Sirin's Finney smartphone has been priced at $999 and it is expected to hit the market next year, however, a definite release timeline is not known.
_ Courtesy: Beebom
---
[Updated: December 5, 2017]
Winklevoss Twins are the World's 1st Bitcoin Billionaires
There has been a great surge in Bitcoin prices especially in last couple of weeks. Bitcoin reached another new high on Sunday, crossing the threshold of a $11,826.76 a coin for the first time. A large number of people are in the game now and most people have started buying bitcoins now due to the growing popularity, Cameron Winklevoss and Tyler Winklevoss (also known as The Winklevii) (age 36 and 36) just became the world's first bitcoin billionaires.
Do you know that, they're the twin brothers who claimed that Facebook was their idea plagiarized by Mark Zuckerberg.
According to the reports, the twins received $65 million in settlement from Facebook in 2009, out of which they invested $11 million in buying 1 percent of all currently mined Bitcoins. As you might already know, the bitcoin has exponentially surged in value, making billionaires out of the 36-year-old twins.
"If Bitcoin is a better gold or seen as a type of gold-like asset, then it could be in the trillions on a market cap. We do feel those are very real possibilities," Tyler also told CNN Money.
---
[Updated: December 5, 2017]
Learn About Bitcoin if You're Looking for a Job: LinkedIn
Bitcoin prices have surged more than 11 times in 2017 itself and it could be the new area of disruptive business practices. It is evident from LinkedIn's new report that companies around the world are building workforces which are prepared for a blockchain-driven economy in future.
As per the report, total Bitcoin-related opportunities on LinkedIn have increased by over 900% in the finance sector and 460% in the tech industry since 2014. While financial side is growing at a higher rate, 70% of the Bitcoin-related jobs are related to software development.
The report also stated that there has been a 28x jump in the number of recognized cryptocurrency-related skills in the last 4 years.
_ Courtesy: Beebom
---
[Updated: 16/11/2017]
PressCoin is a Cryptocurrency for Investigative Journalists and their Readers
News organizations and journalists from various parts of the world have banded together to create a cryptocurrency to sustain funding for investigative journalism called PressCoin. The purpose of this digital currency was made to get rid of the advertising revenue model, decentralize funding sources, and upend corporate media monopolies with collaborative content that strengthens civic participation across the world.
PressCoin is following a model being tested by several companies that recently launched their own cryptocurrency. A 28-day initial coin offering (ICO) is scheduled to begin November 22, with one PressCoin for sale at the value of $1.
The Ethereum-based currency will be distributed to the wallets of both readers and journalists based on the level of engagement they are able to create, as measured using the Quintype content management system.
Publications under the PressCoin umbrella will focus on specific areas of coverage, such as democracy, politics, energy, education, health and wellness, and science.
---
[Original Story]
Cryptocurrency: Know Everything
A cryptocurrency is a digital or virtual currency designed to work as a medium of exchange that uses cryptography to secure the transactions, control the creation of additional units, and to verify the transfer of assets due to which it is difficult to counterfeit.
A defining feature of a cryptocurrency, and arguably its most endearing allure, is its organic nature. It uses decentralized control which means it is not issued by any central authority (as opposed to centralized banking and economic systems such as the Federal Board of Revenue or Federal Reserve System), rendering it theoretically immune to government interference or manipulation. The anonymous nature of cryptocurrency transactions makes them well-suited for a host of nefarious activities, such as money laundering and tax evasion.
Cryptocurrencies are used primarily outside existing banking and governmental institutions, and exchanged over the Internet. While these alternative, decentralized modes of exchange are in the early stages of development, they have the unique potential to challenge existing systems of currency and payments. As of June 2017 total market capitalization of cryptocurrencies is bigger than 100 billion USD and record high daily volume is larger than 6 billion USD. _ Coinmarketcap
As of June 2017 total market capitalization of cryptocurrencies is bigger than 100 billion USD and record high daily volume is larger than 6 billion USD.
Bitcoin – The First Cryptocurrency
The first cryptocurrency to capture the public imagination was Bitcoin, which was launched in 2009 by an individual or group known under the pseudonym Satoshi Nakamoto. Since then numerous cryptocurrencies have been created called altcoins. As of September 2015, there were over 14.6 million bitcoins in circulation with a total market value of $3.4 billion. _ Investopedia
Bitcoin's success has spawned a number of competing cryptocurrencies, such as LiteCoin, NameCoin, PeerCoin, etc.
This video explains how does Cryptocurrency like Bitcoins work?
Satoshi Nakamoto
It is the name used by the unknown creator of the protocol used in the bitcoin cryptocurrency. Satoshi Nakamoto (Japanese) is closely-associated with Bitcoin and the Bitcoin blockchain technology. It used SHA-256, a cryptographic hash function, as its proof-of-work scheme. To date it is unclear if he or she is a single person, or if the name is a moniker used by a group. What is known is that Satoshi Nakamoto published a paper in 2008 that jumpstarted the development of cryptocurrency. It is interesting to note that he never intended to invent a currency. In his announcement of Bitcoin in late 2008, Satoshi said he developed "A Peer-to-Peer Electronic Cash System."

Legal Status of Cryptocurrencies
The legal status of cryptocurrencies varies substantially from country to country and is still undefined or changing in many of them. Some countries have explicitly allowed their use and trade while others have banned or restricted it. China Central Bank banned the handling of bitcoins by financial institutions during an extremely fast adoption period in early 2014. In Russia, though cryptocurrencies are legal still it is illegal to actually purchase goods with any currency other than the Russian ruble. On March 25, 2014, the United States Internal Revenue Service ruled that bitcoin will be treated as property for tax purposes as opposed to currency.
How Miners Create Coins and Confirm Transactions
A cryptocurrency like Bitcoin consists of a network of peers. Every peer has a record of the complete history of all transactions and thus of the balance of every account. For instance, a transaction is a file that says, "Bob gives X Bitcoin to Alice" and is signed by Bob's private key. It's basic public key cryptography. After signed, a transaction is broadcasted in the network, sent from one peer to every other peer. This is basic p2p-technology.
This transaction is known almost immediately by the whole network. But it takes time to get confirmed. Confirmation is a critical concept in cryptocurrencies. You could say that cryptocurrencies are all about confirmation.
As long as a transaction is unconfirmed, it is pending and can be forged. When a transaction is confirmed, it is set in stone. It is no longer forgeable, it can't be reversed, it is part of an immutable record of historical transactions: of the so-called blockchain.
Only miners can confirm transactions. This is their job in a cryptocurrency-network. They take transactions, stamp them as legit and spread them in the network. After a transaction is confirmed by a miner, every node has to add it to its database. It has become part of the blockchain.
For this job, the miners get rewarded with a token of the cryptocurrency, for example with Bitcoins. Since the miner's activity is the single most important part of cryptocurrency-system we should stay for a moment and take a deeper look on it.
This video explains The Essence of How Bitcoins Work. This video is designed for Non-Technical Persons.
Cryptocurrency – Pros and Cons
Pros of Cryptocurrency
(Image Courtesy: Blockgeeks)
Cryptocurrencies make it easier to transfer funds between two parties in a transaction; these transfers are facilitated through the use of public and private keys for security purposes. These fund transfers are done with minimal processing fees, allowing users to avoid the steep fees charged by most banks and financial institutions for wire transfers.
Transactions that occur through the use and exchange of these altcoins are independent from formal banking systems, and therefore can make tax evasion simpler for individuals. Since charting taxable income is based upon what a recipient reports to the revenue service, it becomes extremely difficult to account for transactions made using existing cryptocurrencies, a mode of exchange that is complex and (in some cases) impossible to track.
Central to the genius of Bitcoin is the block chain it uses to store an online ledger of all the transactions that have ever been conducted using bitcoins, providing a data structure for this ledger that is exposed to a limited threat from hackers and can be copied across all computers running Bitcoin software. Many experts see this block chain as having significant uses in technologies, such as online voting and crowdfunding, and major financial institutions such as JP Morgan Chase see potential in cryptocurrencies to lower transaction costs by making payment processing more effective.
Cryptocurrencies are not immune to the threat of hacking. In Bitcoin's short history, the company has been subject to over 40 thefts, including a few that exceeded $1 million in value. Still, many observers look at cryptocurrencies as hope that a currency can exist that preserves value, facilitates exchange, is more transportable than hard metals and since these use decentralized control therefore these are outside the influence of central banks and governments.
Cons of Cryptocurrency
However, because cryptocurrencies are virtual and do not have a central repository, a digital cryptocurrency balance can be wiped out by a computer crash due to malware or data loss or through the destruction of the physical media, effectively removing lost cryptocurrencies forever from their markets if a backup copy of the holdings does not exist.
Since cryptocurrencies are digital currencies that are managed through advanced encryption techniques, many governments have taken a cautious approach toward them, fearing their lack of central control and the effects they could have on financial security.
Regulators in several countries have warned against their use and some have taken concrete regulatory measures to deter users.
Since prices are based on supply and demand, the rate at which a cryptocurrency can be exchanged for another currency can fluctuate widely.
Compared with ordinary currencies held by financial institutions or kept as cash on hand, cryptocurrencies can be more difficult for seizure by law enforcement.
Many banks do not offer services for cryptocurrencies and can refuse to offer services to virtual-currency companies.
Cryptocurrency transactions are normally irreversible after a number of blocks confirm the transaction. One of the features cryptocurrency lacks in comparison to credit cards is consumer protection against fraud, such as chargebacks.
Also the success of some cryptocurrencies has caused multi-level marketing schemes to arise with pseudo cryptocurrencies, such as OneCoin.
Important Terminologies associated with Cryptocurrency
Miner
Within cryptocurrency systems the safety, integrity and balance of ledgers is maintained by a community of mutually distrustful parties referred to as miners: members of the general public using their computers to help validate and timestamp transactions adding them to the ledger in accordance with a particular timestamping scheme. Miners have a financial incentive to maintain the security of a cryptocurrency ledger.
Principally everybody can be a miner. Since a decentralized network has no authority to delegate this task, a cryptocurrency needs some kind of mechanism to prevent one ruling party from abusing it.
Ledger
In September 2015, the establishment of the peer-reviewed academic journal Ledger was announced. It will cover studies of cryptocurrencies and related technologies, and is published by the University of Pittsburgh The journal encourages authors to digitally sign a file hash of submitted papers, which will then be timestamped into the bitcoin blockchain. Authors are also asked to include a personal bitcoin address in the first page of their papers
Bitcoin Cash
It is a fork of Classical Bitcoin that was created in August 2017. Bitcoin Cash increases the size of blocks, allowing more transactions to be processed.
Since its launch, Bitcoin faced pressure from community members on the topic of scalability. Specifically, that the size of blocks – set at 1 megabyte (MB), or 1,000 bytes, in 2010 – would slow down transaction processing times, thus limiting the currency's potential, just as it was gaining in popularity. The block size limit was added to the Bitcoin code in order to prevent spam attacks on the network at a time when the value of a Bitcoins was low. By 2015, the value of Bitcoins had increased substantially and average block size had reached 600 bytes, creating a scenario in which transaction times could run into delays as more blocks reached maximum capacity. _ Investopedia
Digital Copy
A duplicate record of every confirmed Bitcoin transaction that has taken place over a peer-to-peer network. Digital copy is one of the security features of the Bitcoin platform that was implemented in order to tackle the problem of double spending.
Bitcoin Unlimited
A proposed upgrade to Bitcoin Core that allows larger block sizes. Bitcoin Unlimited is designed to improve transaction speed through scale.
Double-Spending
The risk that a digital currency can be spent twice. Double-spending is a problem unique to digital currencies because digital information can be reproduced relatively easily. Physical currencies do not have this issue because they cannot be easily replicated, and the parties involved in a transaction can immediately verify the bona fides of the physical currency. With digital currency, there is a risk that the holder could make a copy of the digital token and send it to a merchant or another party while retaining the original. This was a concern initially with Bitcoin, the most popular digital currency since it is a decentralized currency with no central agency to verify that it is spent only once. However, Bitcoin has a mechanism based on transaction logs to verify the authenticity of each transaction and prevent double-counting.
Block Chain
Bitcoin requires that all transactions, without exception, be included in a shared public transaction log known as a block chain. This mechanism ensures that the party spending the bitcoins really owns them, and also prevents double-counting and other fraud. The block chain of verified transactions is built up over time as more and more transactions are added to it. Bitcoin transactions take some time to verify because the process involves intensive number-crunching and complex algorithms that take up a great deal of computing power. It is, therefore, exceedingly difficult to duplicate or falsify the block chain because of the immense amount of computing power that would be required to do so.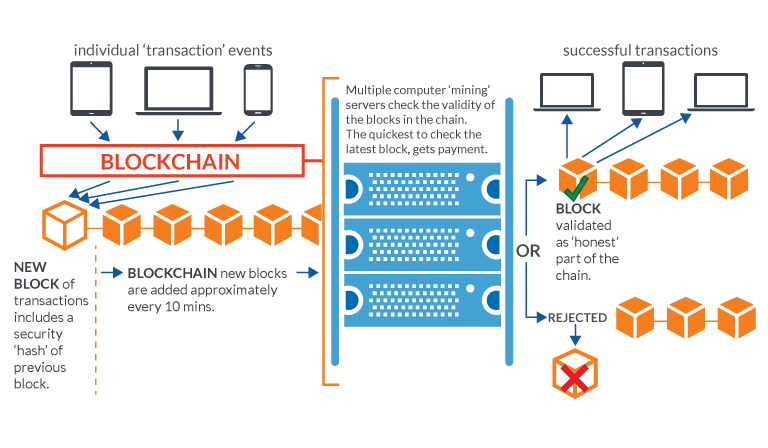 (Image: Open BlockChain)
Hackers have tried to get around the Bitcoin verification system by using methods such as out-computing the block chain security mechanism, or using a double-spending technique that involves sending a fraudulent transaction log to a seller and another to the rest of the Bitcoin network. These ricks have met with only limited success. In fact, most Bitcoin thefts so far have not involved double-counting, but rather have been due to users storing bitcoins without adequate safety measures.
Altcoin
"Altcoin" is a combination of two words: "alt" and "coin"; alt is short for alternative and coin for currency. Thus together they imply a category of cryptocurrency that is alternative to the digital currency Bitcoin.
Altcoins are the alternative cryptocurrencies launched after the success of Bitcoin. Generally, they project themselves as better substitutes to Bitcoin. The success of Bitcoin as the first peer-to-peer digital currency paved the way for many to follow. Many altcoins are trying to target any perceived limitations that Bitcoin has and come up with newer versions with competitive advantages. There is a great variety of altcoins. As of September 2017, there were over 1100 digital currencies in existence.
(Image Courtesy: Blockgeeks)
Indices
In order to follow the development of the market of cryptocurrencies, indices keep track of notable cryptocurrencies and their cumulative market value.
Coinjoin or Coin Mixing
An anonymization strategy that protects the privacy of Bitcoin users when they conduct transactions with each other. Coinjoin requires multiple parties to jointly sign on an agreement to mix their coins when engaging in separate Bitcoin transactions.
Transfer
A change in ownership of an asset, or a movement of funds and/or assets from one account to another. A transfer may involve an exchange of funds when it involves a change in ownership, such as when an investor sells a real estate holding. In this case, there is a transfer of title from the seller to the buyer and a simultaneous transfer of funds, equal to the negotiated price, from the buyer to the seller.
Proof-of-Work and SHA 256 Hash
Satoshi set the rule that the miners need to invest some work of their computers to qualify for the task. In fact, they have to find a hash which is a product of a cryptographic function – that connects the new block with its predecessor. This is called the Proof-of-Work. In Bitcoin, it is based on the SHA 256 Hash algorithm.
Convertible Virtual Currency or Open Virtual Currency
An unregulated digital currency that can be used as a substitute for real and legally recognized currency. Convertible Virtual Currency usually has a measurable value in real money, but what makes it convertible lies in its ability to be exchangeable. Not all virtual currency can be exchanged for legal tender though, therefore, not all virtual currency is convertible.
Finally this video gives an overview of What is a Bitcoin and how does it Work?
---
See Also:
FAQ Cryptocurrency
What is Cryptocurrency?
A cryptocurrency is a medium of exchange like normal currencies such as USD, but designed for the purpose of exchanging digital information. Cryptocurrency is defined by Investopedia.com as a decentralized "digital or virtual currency that uses cryptography for security" making it difficult to counterfeit.
How Bitcoin can be converted to cash?
There are several possible ways to convert bitcoin to cash and ultimately move it to a bank account: Sell bitcoin on a cryptocurrency exchange, such as Coinbase or Kraken. This is the easiest method if you want to sell bitcoin and withdraw the resulting cash directly to a bank account. You can also use a bitcoin ATM
Can I mine Bitcoin on my laptop?
Yes, currently is mining software that allows users to mine for Bitcoin on laptops. In the beginning, when the first Bitcoin miners evolved, BTC mining on a laptop or CPU mining as they call it was the only way you could mine for bitcoins at the time.
How much it costs to mine 1 Bitcoin?
According to a recently published analysis conducted by Elite Fixtures, which examined the electricity costs of 115 countries, the United States ranked as the 40th cheapest to mine a single bitcoin, with an average cost of $4,758.
How can I withdraw cash from a Bitcoin ATM?
Log in to your account on the Bitcoin ATM, and select the "Withdraw Cash" option. Enter the amount of cash you wish to withdraw, and send Bitcoin to the wallet address QR code indicated. Once the transaction is confirmed on the blockchain network, you can collect your cash.
Who runs the Bitcoin network?
Nobody owns the Bitcoin network much like no one owns the technology behind email. Bitcoin is controlled by all Bitcoin users around the world. While developers are improving the software, they can't force a change in the Bitcoin protocol because all users are free to choose what software and version they use.
How can I get free Bitcoins?
Shop Online and Earn Free Bitcoin.
1. Open a Crypto Interest Account to Earn Free Bitcoin.
2. Start Crypto Mining to Earn Free Bitcoin.
3. Take Surveys to Earn Free Bitcoin.
4. Become an Affiliate Marketer and Earn Bitcoins for Free.
5. Start Earning Free Bitcoin Online Today.
How do I open a Bitcoin Wallet?
Step 1: Go to Blockchain.info's Wallet Website.
Step 2: Complete the Sign-Up Process.
Step 3: Backup Your Paraphrase.
Step 4: Link Mobile Number & Enable 2FA.
Step 5: Block TOR-linked Addresses.
Step 6: Done!
How do I buy a Bitcoin?
To buy Bitcoin, you must first sign up for a Bitcoin wallet. Traditional payment methods such as a credit card, bank transfer (ACH), or debit cards will buy Bitcoins on a Bitcoin exchange using a Bitcoin wallet as a depository.
Can I mine Bitcoin on a phone?
You actually can mine bitcoins on any Android device. Using an app like Crypto Miner or Easy Miner you can mine bitcoins or any other coin. You'll likely make less than one penny PER YEAR! Android phones simply are not powerful enough to match the mining hardware used by serious operations.