Keyword Research Made Easy – Yoast and SEMrush Integration
Yoast and SEMrush Integration
SEMrush, a leading online visibility management and content marketing SaaS platform, and Yoast, creator of a market-leading WordPress plugin for search engine optimization, announced the start of an integration partnership.
With over 5+ millions active installation, Yoast SEO is #1 SEO plugin out there. On the other hand, SEMRush has one of the biggest keyword databases in the industry, and now it is available for WordPress users with Yoast + SEMRush integration.
The full set of SEMrush features available in Yoast SEO helps Yoast customers:
Get related keywords that are similar to a user's query
Get useful metrics for every keyword
Uncover new keyword ideas for the content
The integration partnership begins with the release of an updated version of Yoast's search engine optimization (SEO) plugin for WordPress, a popular content management system (CMS) that powers over 35% of all sites on the internet. Yoast SEO will now feature tight integration with SEMrush's extensive keyword database and SEO products, offering Yoast users smart, SEO-focused keyword suggestions and data within the CMS post editor, helping content creators to enhance their search engine indexability and drive the right traffic to their site at the right time.
"As more and more people get online, we see that these people need help with keyword research. Previously we could not give our customers information regarding how people search, specifically which related searches there are for important search terms. Our integration with SEMrush not only makes this possible, it shows it right when and where you need it. I look forward to building out this feature to help people write better content, faster."_ Yoast founder and Chief Product Officer Joost de Valk
"At a time when all businesses are becoming even more reliant on their digital strategy to thrive and survive, it is hard to overstate the significance of this partnership between SEMrush and Yoast, two highly regarded names in SEO. We are thrilled to announce the seamless integration of one of the largest keyword databases on the market with Yoast's unrivalled reach into WordPress-powered sites. As many of SEMrush clients run websites with WordPress, this partnership is an important one for our customers. We look forward to cooperating further with Yoast to help as many people as possible become the best digital marketers they can be."_ SEMrush Chief Strategy Officer Eugene Levin
Both free and premium Yoast SEO users have access to the SEMrush related keyphrases. However, only premium users can add a related keyphrase from the list to their post with just one click. Using a free SEMrush account will allow you to make up to 10 requests for related keyphrases per day. To get full access to the SEMrush tools, you will need to upgrade your SEMrush account.
How to use the related keyphrase feature in Yoast SEO?
To use this feature you need two things:
To start using this feature, follow these steps.
Add a related keyphrase in the Focus keyphrase input filed in the Yoast SEO sidebar/meta box.
Click the Get related keyphrases button below the Focus keyphrase input field.
You will see a pop-up window with one of the following three scenarios:

1. If you already have a SEMrush account, log in directly in the pop-up window (1) and then allow Yoast SEO to connect the accounts (3); or
2. If you don't have a SEMrush account, register and create one (2) and then allow Yoast SEO to connect the accounts (3); or
3. If you are already logged into your SEMrush account, allow Yoast SEO to integrate the accounts (3).

To Log in and to Register, follow the instructions on the screen.

Click the Approve button (3 in the image above) to integrate your SEMrush account with Yoast SEO. Once you connect the accounts, the SEMrush related keyphrases overlay window appears.
Click on the country name to select a country and the language you want to see results for. A dropdown menu with more than 100 available countries and languages appears. Select the one you need, and then click the Select country button.
Check the Volume and the Trend of the suggested keyphrases The volume column shows the average number of monthly searches for the analyzed keyword over the last 12 months. The trend column shows the interest of searchers in the related keyphrase over the last 12 months.
Add the related keyphrase to your post (Yoast SEO Premium). If you are using Yoast SEO Premium, you can add a related keyphrase for Yoast SEO to analyze, by clicking the Add as related keyphrase button. You will immediately see the related keyphrase in the Yoast SEO Premium sidebar.
Get more insights at SEMrushAt the bottom of the overlay window, there is a link. Click on it to access your SEMrush dashboard, and get even more information on your focus keyphrase!
Volume and Trend of related keyphrases
Our SEMrush integration offers the functionality to find related keyphrases for the keyphrase you've filled out in Yoast SEO. These related keyphrases will also have some more metrics next to them to help you choose relevant related keyphrases. Those extra metrics is Volume and Trend. Here's what they mean.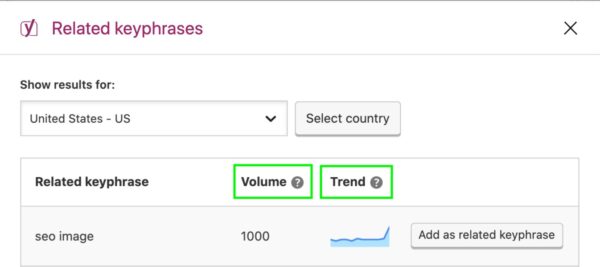 Volume
Volume is the average number of monthly searches for the related keyphrase over the last 12 months. So this is a monthly metric.
Trend
The interest of searchers in the related keyphrase over the last 12 months. The metric is based on changes in the number of searches per month.
[Video Tutorial] Keyword Research Made Easy – Yoast and SEMrush Integration [Hindi/Urdu]
Source: